For the election that never ended, what better way to calm our nerves than with a nice, strong cocktail?
What's the harm? We're already experiencing a year-long hangover, anyway. And, really, has there been a single day since Trump and Putin seized the White House that we haven't ended it with, "Whew, I need a drink!"
Val's Got You Covered
"Craft Cocktails by Val" is a new book that chronicles the US presidential election of 2016 in the form of original cocktails inspired by Hillary Rodham Clinton and other unforgettable moments during the campaign, created in real time.
For example, remember Hillary's famous debate Shimmy?
Well, there's a drink for that! It's bright red like her suit and lipstick, and it's just as cute. 
Introducing The Shoulder Shimmy
With a medley of dry gin, 
cranberry juice, and
 a few other goodies, a glass or two of this ruby-red cocktail will have you doing your own little shoulder shimmy.
INGREDIENTS:
2 ounces of dry gin
2/3 ounces fresh lemon juice
2/3 ounces pure cranberry juice
2/3 ounces simple syrup
2 dashes Bittermens Burlesque Bitters
INSTRUCTIONS:
In a mixing glass, combine the gin, simple syrup, and the juices. Add the bitters and stir over ice. Fine strain into a coupe glass. Do all this with confidence, elegance, knowledge, wit, poise and brilliance. When your evil rival melts down and the audience holds its breath, entertain us with your shoulder shimmy!
This unique, creative cocktail book by German journalist, Heike Kevenhörster, and artist, Sarah Sole, will delight you with 47 original cocktails created by 
Kevenhörster
, paired up with fantastical photo collages of Clinton by Sole to match each drink.
The World Is Watching
Kevenhörster said her inspiration for the book stems from her interest in US politics, "Since the USA is such a powerful country, what happens there also influences the rest of the world and particularly Europa to a great extent. 
So I've been interested in your politics for quite a while."
She adds, "
As to the last election, I have never been so inspired by one before. I deeply believe Hillary Clinton would have been an amazing president. I admired her intellect, her knowledge, her competence, her values and her work ethic. And it was frightening to see what was going on in one of most powerful democracies in the world: the pathetic role the media played, how the Left acted, and how many people didn't care enough to turn out and vote. Having studied my own country's disastrous history, I was particularly stunned and appalled to witness how little the US public seemed to notice or mind the authoritarian views Trump proclaimed."
The Election That Made The World Drink
Enter the Hillary cocktails. "My hobby of creating cocktails which comment on the election campaign had started early in the primaries when I had playfully put some crème de violette into a Gin & Tonic and called it a "Hillary Tonic". My friends loved the drinks and the concept and cheered me on. I was already in contact with Sarah at the time over her Instagram page where she posted her Hillary art. We started a sort of playful collaboration: She posted collages, I made drinks."
You might already be familiar with Sole's work from her surrealist paintings of HRC
featured in Rolling Stone magazine
in 2015. In this cocktail book, Sole mostly keeps with her signature surreal, sometimes obscure and bizarre, interpretations of Hillary, but for this review, The Cherie Bomb cherry picked the cutest ones for you.
Rodham Rose, Anyone?
It's just as sweet and girly as you can imagine: mix Champagne and rose water together with a few other delicate, pretty-sounding ingredients and you have a new drink for your next girls' night get-together.
The Real Rodham Rose
#ImWithTheWhore 
Like Nasty Woman became a rallying cry for progressive women all over the world, 
#ImWithTheWhore is a drink for ride-or-die Hillary fans.
Its ingredients are as strong and legendary as the lady who inspired it, with come-at-me-bro, 90-proof Sazerac whiskey, and a drop of 
absinthe—
the iconic green liquor that was banned in the US until 2007. Like Clinton, The Green Fairy was also unfairly maligned as The Green Devil by those who opposed her.
Chipping Away, Paving The Way
Hillary Clinton is not only the first female presidential candidate nominated by a major party, but she is also first woman to win the popular vote in a United States presidential election—winning 3 million more votes than What's His Name— paving the way and lighting the path for the woman who will one day become the first female president of the United States.
HEY, VAL, I'LL TAKE A "HILLARY FOR AMERICA"
. . . BECAUSE I'M NOT A TRAITOR AND BELIEVE THAT TRUMP-RUSSIA COLLUSION IS REAL
The "Hillary For America" cocktail is topped with soft marshmallows, but its base is hard liquor, namely Absolut Vodka, whose progressive ad campaigns are a perfect match for a drink named after a think-different trailblazer. 
I Won't Lie, Chardonnay Helped
But, what about vodka or whiskey cocktails?
ABC News asked New York Times reporter, Amy Chozick, who followed Clinton on the campaign trail of both her presidential races in 2008 and 2016, what surprised her most about Hillary. "She likes to drink. We were on the campaign trail in 2008 and the press thought she was just taking [whiskey] shots to pander to voters in Pennsylvania. Um, no."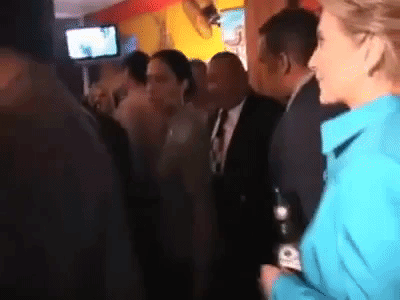 Part Warrior Woman, Part Nerd, With a Splash of Good Time Girl
On Huffington Post's "Drinking and Talking" roundtable (2:01),
Patti Solis Doyle, Clinton's former senior adviser, said, 
"When I drank with her it was wine and vodka," adding, "
She's a lot of fun. She 
likes to hang out and drink and laugh and gossip…like 'who're you dating?'"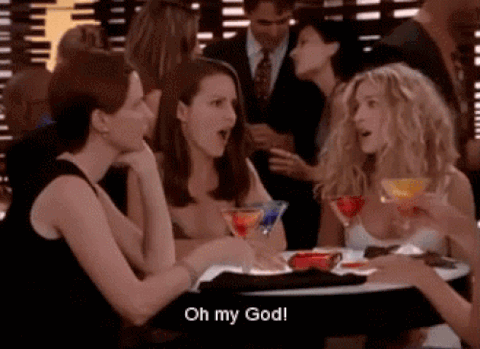 Suffice to say, it's not far-fetched to imagine Hillary having her own girls night up in Chappaqua, laughing, gossiping and mixing up some of Val's craft cocktails.
 

VAL THE BARTENDER
—JUST AN ORDINARY CITIZEN WHO BELIEVES THE KEYSTONE PIPELINE WILL DESTROY OUR ENVIRONMENT—
WHO, ON ONE RANDOM NIGHT, MET HILLARY RODHAM CLINTON AT A BAR, AND THE REST, AS THEY SAY, IS HERSTORY.  
Hold on to your heels, Nasty Women, it's going to be a bumpy ride, but these drinks will soften the bumps and blows along the way,
so pull out those champagne glasses, 
call your girlfriends over,
and stir up a Rodham Rose.
The limited edition, 200-page, linen bound hardcover book is available for purchase at craftcocktailsbyval.com
Follow Cocktails By Val on social media:
Twitter:@CocktailsByVal
Instagram:@CraftCocktailsByVal
Facebook: Craft Cocktails By Val.com
Still wondering if you should buy the book? Remember, "Activist Bitches Support Activist Bitches, So Let's Go!